Aero Precision M4E1
This AR-15 was built around the 6.8mm SPC II cartridge using an M4E1 upper and lower receiver set from Aero Precision. I am hoping this will become my primary CQB weapon.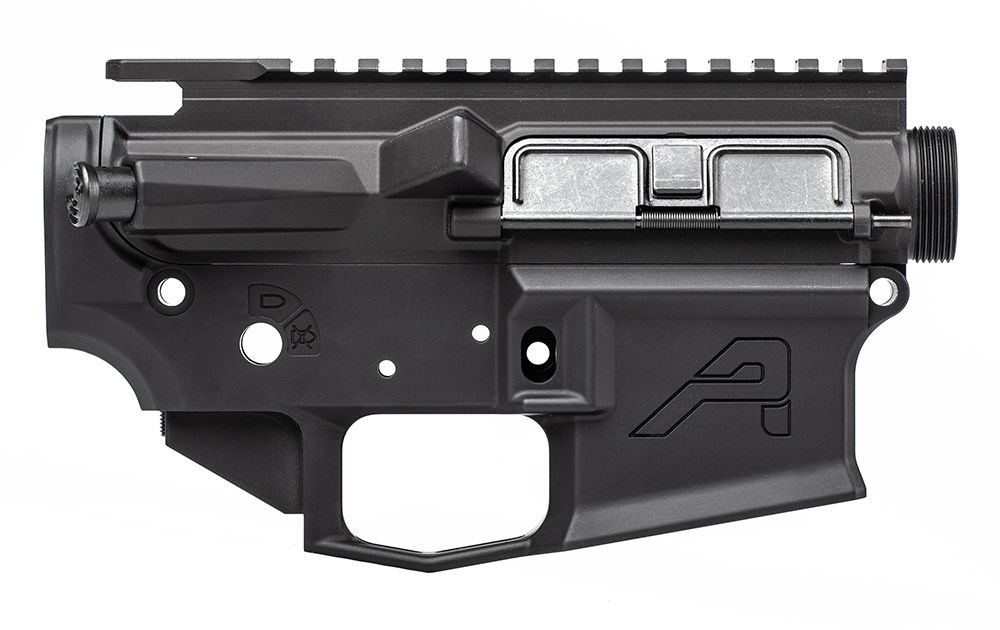 | | |
| --- | --- |
| Overall Length: | 37" (33¾" collapsed) |
| Weight: | 7 lb. 4 oz. |
| Magazines: | A.S.C. 25-rd and 15-rd |
Upper
| | |
| --- | --- |
| Caliber: | 6.8mm SPC II |
| Barrel: | Wilson Combat 16" fluted stainless steel, four groove 1 in 11" right-hand twist |
| Receiver: | XTR AR-15 Mil-Spec Upper Receiver |
| BCG: | LWCRI 6.8mm SPC II Advanced Bolt Carrier Group |
| Muzzle Attachment: | Wilson Combat Accu-Tac Flash Hider |
| Handguard: | Diamondhead VRS T 10.25" Series 3 |
| Optic: | Vortex Spitfire HD Gen II 3x Prism Scope |
| Charging Handle: | Strike Industries ARCH w/Extended Latch |
| Weapon Light: | Surefire M600 Ultra Scout Light |
Lower
| | |
| --- | --- |
| Trigger: | Geissele Single-Stage Precision (SSP) M4 Curved Bow, 3 lb. |
| Rear Stock: | Strike Industries MOD1 w/Rubber Buttpad |
| Grip: | 15° Flat Top Overmolded AR Pistol Grip |
| Buffer Tube: | Geissele Premium Mil-Spec Buffer Tube Assembly |
| Buffer: | Geissele H1 Buffer |
| Buffer Spring: | Geissele Super 42 Braided Wire Buffer Spring |
| Magazine Catch: | Strike Magazine Catch |
| Bolt Catch: | Battle Arms Enhanced Bolt Catch |
| Safety Selector: | Battle Arms BAD-ASS-PRO 90/60 Ambidextrous Safety Selector |
I purchased the receiver set and all the lower components in 2022, but the rest of the upper was purchased in 2020.
Status
The gas port has been opened up to .078" and the upper has been rebuilt using the Aero Precision M4E1 upper receiver, and the optic is bore sighted. A new lower has been assembled using the Aero Precision M4E1 lower receiver.
Feb 24, 2022: The whole rifle is built and ready to test.
Lower Build
Butt Stock

I have the Strike Industries MOD1 with the MOD1 Rubber Buttpad. It looks good, and it feels decent in my shoulder (especially when the rifle is pointed downward). However the fit on the tube is quite loose, and it rattles.

Grip

I have the Strike Industries 15° overmolded grip on the rifle right now. It's a nice grip, but it sure feels skinny, and with no finger grooves, it feels sloppy.
Alternatives: I have a CAA UPG16 on my Bushmaster, and it fits my hand very well, but it has more flex in it than I would like. Maybe I should try Hogue's OverMolded grip with finger grooves (they have with and without the beavertail). TacFire has a grip that appears to be shaped much like my CAA grip, but is one piece. FAB Defense. XTS. ATI. Advanced Technology. JE Machine. UTG.
Optics
I am trying the Vortex Spitfire HS Gen II 3x Prism Scope on this rifle. I like it well enough, but even in the rearmost slot on the picatinny rail, it is too far forward.
I also have a Burris MTAC 1.5-6x42mm Riflescope with the Ballistic AR reticle (200439). I had it on this upper, but I have swapped in the Vortex prism scope instead. I think I will save this to put on my PTR-91 (after the ammo shortage has passed). If I were to get a .350 Legend upper for hog hunting, it would be great for that too.
Ammunition
In the absense of a personal defense load, a load with a big game hunting load bullet is the next best thing.
Hornady 120 gr. SST — This functions reliable in my rifle (with the gas port at .078"). More testing is needed, but so far it seems to be yielding about 1 MOA accuracy. Availability seems to be not too bad.
Hornady 100 gr. GMX, 100 gr. CX — I should give these a try as well. Hornady may be phasing out the GMX.
Sellier & Bellot 110 gr. PTS — Evidently, this load is well respected. The PTS bullet is made by Hornady, and it is widely believed to be an SST. Reviews claim the load is accurate, and it gets good velocity. Update (Feb 24, 2023): This load short strokes every time (with my gas port at .072"), and it isn't particularly accurate.
Handloads
The popularity of this cartridge has diminished significantly, and there is a poor selection of factory ammunition that is good for defensive use (exception: see S&B PTS above). I will have to go with hand loads. Allegedly, the following components are ideal for this cartridge:
Barnes 95 gr. TTSX / TAC-TX
AA2200
Barnes has three bullets with profiles specifically for the 6.8mm SPC, including a 95 gr. TTSX and a 110 gr. TSX. If I go with Barnes, I might as well buy Starline brass. 68forums is singing praise for the 95 gr. TTSX, and AS2200 seems to be popular for accuracy.
Hornady sells the 120 gr. SST with a 6.8mm SPC profile. This bullet is also well respected on 68forums.
Nosler sells the 100 gr. AccuBond and an 85 gr. E-Tip in 6.8mm SPC profiles. There may also be a 110 gr. AccuBond. If I go with the AccuBond, I should buy Nosler brass to go with it.
Short Stroking
When I first tested it, it was short stroking. It would eject brass okay, but it wouldn't strip the next round off the magazine or lock open on an empty magazine. It fed fine, manually.
Suspecting the gas system, I disassembled the upper and inspected everything closely. However, I now suspect the gas port is slightly under-sized.
According to this sticky on 68forums (Short stroke? #1 question), the gas port should be .076"-.078" in diameter.
I spoke to Wilson Combat. They didn't say they send them out undersized, but they did admit that they have used a variety of sizes over time. Their advice was to only increase it a couple of thousandths at a time, and to cut it straight.
Update (May 21, 2021): Checking with my pin gages, the existing gas port is more than .071" and less than .072" in diameter. I have a new problem: I have heard that drill bits cut holes bigger than their diameter. How much bigger? The barrel is made of 416R stainless steel.
Update (May 22, 2021): The gas port has been opened up to .073" and the upper has been reassembled. It is marginally better, but still short stroking.
Update (Feb 12, 2022): I have finally gotten around to opening up the gas port to .078", and the upper has been reassembled with the Aero Precision M4E1 upper receiver.
Update (Sep 18, 2022): I finally got around to testing the functionality with the .078" gas port. My under pressure handloads ran poorly, only one of the five functioning fully. However, all of the factory loads ran without issue. I guess this means it is working, but it remains to be seen whether my full-power handloads will cycle reliably.
Update (Feb 24, 2023): I thought my short stroking problems were over, but the Sellier & Bellot 110 gr. PTS loads also failed to feed, even worse than my low-power handloads. I guess this means I need to open the gas port even more.