Browning A-Bolt .358 WSSM
This Browning A-Bolt II Hunter is chambered in a custom caliber, the .358 WSSM wildcat. I had the build done by Mark Penrod in Indiana, who did excellent work and had come recommended for this caliber by multiple sources. The rifle is quite accurate, and plenty powerful. The cartridge's down-range energy is suitable for whitetail deer out to 400 yards and for elk to 250 yards, and the rifle has the accuracy to get me there.
I have a feeling this is going to become my favorite hunting rifle. It is relatively lightweight and very well balanced. It has a great trigger, and it is accurate. I can confidently use the cartridge for any big game I am likely to hunt, and yet it has easy recoil.
| | |
| --- | --- |
| Caliber: | .358 WSSM (wildcat) |
| Barrel: | Krieger 23" chrome-moly cryo-treated, 1 in 12" twist |
| Action: | A-Bolt II, 60° bolt, push feed, 3 round magazine |
| Stock: | Walnut |
| Trigger: | 1¾ lbs |
| Scope: | Leupold VX-3i 3.5-10x40mm, Duplex reticle |
| Weight: | [weigh again with new scope] (w/scope) |
This rifle was purchased in 2010. The customization work was completed in 2011.
.358 WSSM
Indiana is a state which has not allowed deer hunting with rifles. They previously allowed only shotguns, handguns, muzzle loaders, and bows. However, in 2007 they began to allow deer hunting with pistol caliber rifles (PCR). The Indiana DNR defines pistol calibers as having a minimum bullet diameter of .357", a minimum case length of 1.160", and a maximum case length of 1.625". This was intended to allow rifles that fire cartridges like the .357 Magnum and the .44 Magnum. However, wildcatters immediately conceived of the .358 WSSM, and the DNR has gone along with these wildcats.
The .358 WSSM is based on the (ill-fated) Winchester Super Short Magnum case, necked up for a .358" bullet. The resulting cartridge duplicates or exceeds the performance of the respected .358 Winchester. Early loadings of this cartridge used a 180gr bullet, which achieves over 2600 fps. However, loads with 225gr bullets are becoming the default. With all of these loads, the terminal performance on deer has been quite impressive. This cartridge should also be suitable for elk at short ranges.
The new barrel will be a Krieger, chrome-moly medium sporter barrel, 22" long. In addition to opening up the barrel channel, the gunsmith will square up the action and modify the feed ramp.
Zero
As of May 15, 2021, the scope is not zeroed, do to a change to the bedding and a replacement of the scope.
Custom Work
Barrel. Chambered .358 WSSM. Receiver trued. Feed ramp modified and polished. Trigger improvements. Barrel channel modified. Re-blued. Bedded? Dies.
The Krieger barrel is cryogenically treated. I am getting faster velocities with this gun than I expected, and I think this is part of the reason. The 180gr results are 61-78 fps faster than Hornady's .358 Winchester data, and the 225gr results are 140-159 fps faster than Sierra's .358 Winchester data.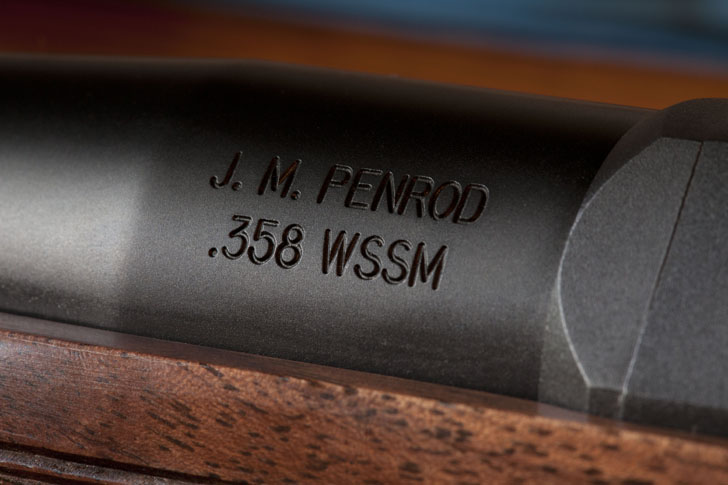 Status
May 15, 2021
I have chipped out the bedding material at the fore-end, which means I need to start my load development over. I will be working on loads using H4895 from here on out. I have also upgraded the scope to a Leupold VX-3i 3.5-10x40mm, which means it isn't zeroed for anything.