PTR-91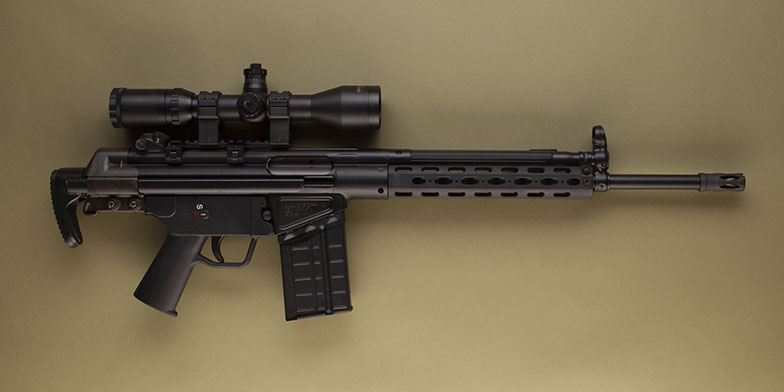 This is my PTR-91, my most Evil Black Rifle (EBR). The PTR-91 is an American made reproduction of the German HK91, which is the semi-automatic version of the G3. This one is the paratrooper model, the PTR-91KPF, which has a 16" barrel and a fully collapsible stock. It is a semi-automatic rifle that fires .308 Winchester (or 7.62x51mm NATO). It uses a roller-delayed blowback operating mechanism and weighs 9.7 lbs. I have 20 and 30 round magazines for it.
Handloading: .308 Winchester
The rifle is manufactured in the United States by PTR 91, Inc. (formerly JLD Enterprises). It is virtually identical to, and all parts are interchangeable with the Heckler & Koch HK91. The HK91 is the semi-automatic version of the G3. It is manufactured from the same blue prints and on the same machinery that was used under license from Heckler & Koch by the Portuguese company FMP.
Apparently, this rifle can chamber and safely fire both .308 Winchester and 7.62x51mm NATO ammunition. However, PTR has warned that many 7.62mm NATO cartridges, including the whitebox Winchester stuff, comes coated with a lacquer that can melt and cause misfeeds and extraction failures. Also, I need to be aware of the differences in brass and load data when I am handloading.
| | |
| --- | --- |
| Weight: | 12 lbs (with scope, w/o magazine) |
I purchased this rifle from my brother (used) in 2010.
Ammunition
I have tested the Hornady TAP 110gr V-Max, and it is excellent. Great accuracy in this rifle, and flawless feeding. I need to stock up on this. Hornady's part number is 80898.
Optics
The scope on this rifle is a Konus M30 1.5-6x44mm scope. The magnification range is perfect for my application, good for both close quarters and longer range. However, the quality of the scope itself is just awful. I need to change it out to a better scope or a prism scope.
I am using a low profile picatinny rail made by MFI and quick-detach rings made by UTG.
I need to go back to the range again to correct the zero. The scope height really threw me off. This time, I should bring the spotting scope, too. I think I have correctly adjusted the elevation based on my last 50-yard target and the calculated trajectory, but I could easily have gone the wrong direction, so I should check it at the range.
I'm going to call the scope height 3.280" inches from the bore axis.
Trigger Job
The factory trigger on this rifle was awful, so I had a trigger job done by Bill Springfield. It is still no target trigger, but it is greatly improved.
Drum Magazine
I don't really need it, but there is a cool 50 round drum available at robertrtg.com.