Remington R-15 VTR

The R-15 VTR is Remington's take on an AR-15 for hunting. This one is chambered in .30 Remington AR, a .30 caliber big game cartridge designed specifically for the AR-15 platform. I am grooming it for use as a semi-automatic deer hunting rifle.
| | |
| --- | --- |
| Caliber: | .30 Remington AR |
| Barrel: | Free-floating, fluted 22" Chrome-Moly, 1 in 10" twist, .680" OD |
| Action: | AR-15 direct gas impingement semi-automatic |
| Capacity: | 4+1, detachable magazine |
| Stock: | Fixed |
| Trigger: | Velocity 3 lb. AR trigger |
| Scope: | Nikon ProStaff 3-9x50mm w/Nikoplex reticle |
| Weight: | 7½ lbs without scope |
| Finish: | Realtree Xtra |
The handguard tube has no set screw, so it is just loosely screwed on and comes unscrewed easily; perhaps I should lock-tite that. It has a basic pistol grip, but no one makes a Realtree upgrade. I guess I could have the items "dipped", but I'm not sure whether it is that important.
I took it to the range to break in the barrel. It's hard to say with junk plinking loads at 50 yards, but I'm probably getting 1½ MOA out of it. Unfortunately, out of 50 rounds, there were two stovepipes (Update: no stovepipes this trip to the range, using the second magazine and the ejector was cleaned and lubricated). Recoil is mild, similar to firing 7.62x39mm in an AK-47, and much gentler than the AR-10 in .308 Winchester.
I have just dropped in a Velocity AR trigger, and it's quite nice. Single stage, no take-up, and I cannot detect any creep. It is nowhere near as crisp and pleasant as the Geissele trigger in my other lower, but it is still pretty good.
I purchased this rifle in 2016.
I was thinking I would sell this rifle and all of its reloading paraphernalia, but Tim has said he still wants to buy it from me eventually, and has asked me to keep it around.
.30 Remington AR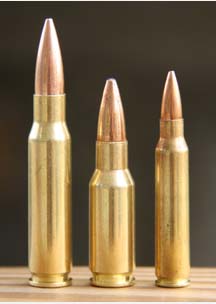 The .30 RAR is, in my opinion, the best deer hunting cartridge that can be used in the AR-15 platform. It is a .30 caliber cartridge with a short, fat case. It has an OAL similar to the 5.56x45mm cartridge, but reaches performance close to the .308 Winchester. It far exceeds the performance of the 6.5mm Grendel, the 6.8mm SPC, the 7.62x39mm, the .300 AAC Blackout, and even the .30-30 Winchester.
Normal bullet weights for this cartridge are 125 to 160 grains.
My brother has stated the desire to hunt deer with a semi-automatic rifle, so I think this is a good choice for him.
Unfortunately, Remington did not back the cartridge for very long, and availability of rifles, ammunition, and brass is very slim. Stand-alone uppers disappeared years ago, and brass was thought to have been discontinued. I was about to give up on this cartridge completely, but then I discovered a few NIB rifles available online and learned of a fresh run of brass. I decided to grab one of the rifles and a supply of brass while I still can.
I have dies from Redding. I think I will probably develop a load based on the Barnes 130 grain T-TSX bullet, using LEVERevolution powder.
Optics
On this rifle, I have installed a Nikon Prostaff 3-9x50mm scope with the normal Nikoplex reticle. With the larger objective lens, it should be nice and clear at dusk.
It is currently zeroed at 100 yards for 130 grain Hornady SP with 36.0 grains of H322 — not a particularly accurate load, just something I have used to break in the barrel and give the scope its initial zero.