Ruger SP101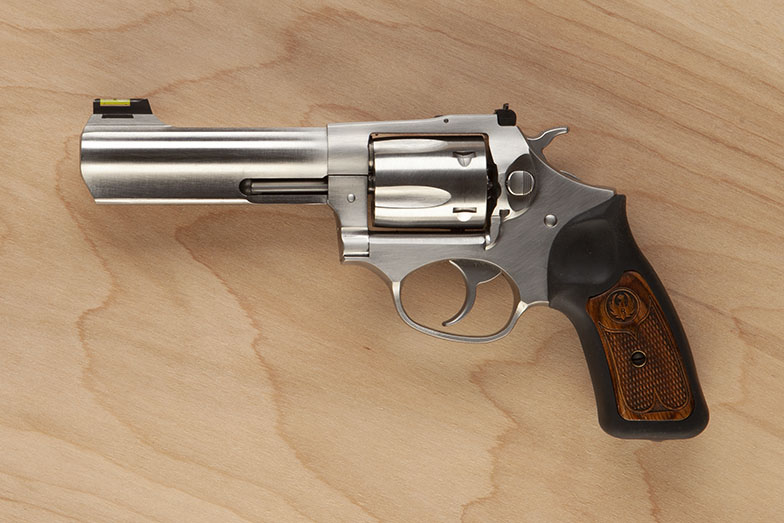 Ruger SP101 KSP-341X
I have acquired this gun for backpacking. It is a reasonable balance of weight and usability, chambered in .357 Magnum. It can be used for protection against dangerous animals or people. It is stainless steel, so it is no tragedy if it exposed to weather.
| | |
| --- | --- |
| Caliber: | .357 Magnum |
| Barrel: | 4.2" |
| Finish: | Stainless Steel |
| Action: | double-action |
| Weight: | 29.5 oz. |
| Grip: | Black Rubber, Engraved Wood |
| Capacity: | 5 |
| Trigger: | ?? lbs |
It has an adjustable rear sight and a fiber optic front sight. It has a transfer bar safety.
I purchased this firearm in 2017.
Holster
Since this is for backpacking, I would like a holster that attaches to the belt of my backpack in a cross-draw configuration. I would also like it to be weather-resistant, so it should be made of synthetic materials.
I will probably have to make this myself.
Ammunition
If/when I can find some, I should try the upcoming Solid Core from Federal.
Buffalo Bore has a "Heavy .357 Magnum Outdoorsman" load that uses 180 grain hardcast lead bullets with a fairly wide meplat. They are designed for minimal expansion and deep penetration. They are named specifically by Buffalo Bore for stopping black bear attacks. This is what I will carry in this gun when backpacking.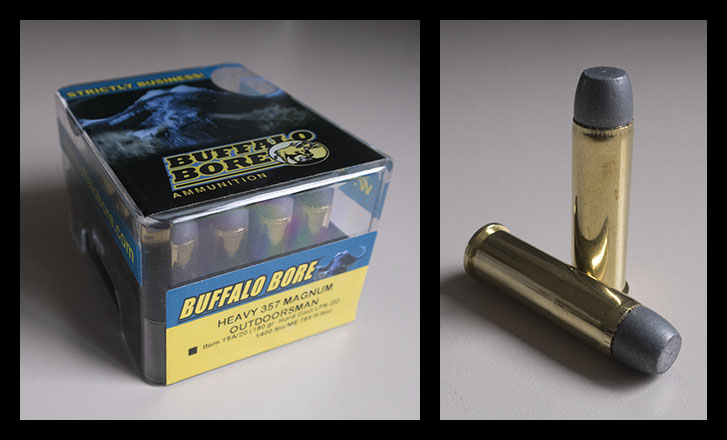 They have stiff recoil, but not enough to be injurious or challenging to shoot. I've put 20 rounds through this gun so far, and none have jumped their crimp. They have been among the most accurate, but they seem to have a different point of aim. The only real negative is that the spent cases are very difficult to extract.
HUNTING: I am considering carrying this as my sidearm when I hunt deer. It should be enough to defend against critters and put down a deer. The question is, should I load it with something a little more practical, like hollow points or soft points? Hornady's 158 gr. XTP is probably a good choice. For soft points, Remington's HTP or Federal Eagle.