Smith & Wesson 629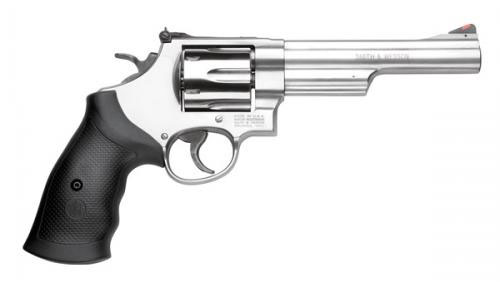 Smith & Wesson 629 in .44 Magnum
Handloading: .44 Magnum
This is the no-nonsense handgun I should have started with as a sidearm for deer hunting (instead of my Smith & Wesson 657). The recoil should be just fine, and the barrel length is much more practical.
| | |
| --- | --- |
| Caliber: | .44 Magnum |
| Capacity: | 6 |
| Barrel Length: | 6" |
| Frame: | N-frame |
| Weight: | 45.8 oz |
I purchased this handgun in 2023.
I want to replace the front sight blade with a HiViz fiber optic sight, in orange or red.
Status
The gun has arrived. I haven't fired it yet. It needs a fiber optic sight installed.
Ammunition
For the sake of expediency, I will use factory loads.
Hornady Handgun Hunter, 200gr MonoFlex — I have a box of this. A solid copper bullet with Hornady's elastomer technology. It probably works well, although 200gr is light for caliber. All the good reviews so far are from hog hunters. Gun writers have had good results. Unless I hate shooting it, I think I will try to standardize on this load. I'll need to look for more supply.
Hornady 240gr XTP — This is a very well respected load for deer hunting, to the point of being the default choice.
Federal Premium, 280gr A-Frame — I have a box of this.