Smith & Wesson 329PD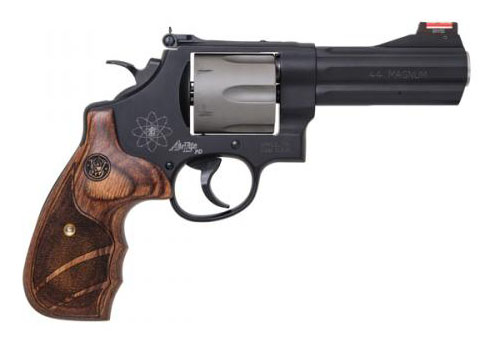 Smith & Wesson 329PD in .44 Magnum
Handloading: .44 Magnum
This is an upgrade from my Ruger Redhawk, which is very blocky and heavy. The 329PD is the same caliber and the same barrel length, but weighs 54% of what the Redhawk weighs. It has a scandium alloy frame and barrel shroud, a titanium cylinder, and a stainless steel barrel. It also has a much nicer hi-viz front sight, and of course a better trigger. This will become my carry gun while in brown bear country.
| | |
| --- | --- |
| Caliber: | .44 Magnum |
| Capacity: | 6 |
| Barrel Length: | 4.125" |
| Frame: | N-frame |
| Weight: | 25.2 oz |
I purchased this handgun in 2020.
Status
It still isn't zeroed. It is grouping about 2" to the left.
I have the rubber grip on it. I have fired at least 32 rounds through it. The recoil ranges from significant to injurious.
I finally found a holster that fits decently, the Duratek Belt Holster (size 14) made by Elite Survival Systems. It doesn't look like anything special, but it is fairly well designed, and most importantly, it fits properly.
Ammunition
I am developing handloads using Sierra's 300 gr. JSP and IMR 4227. Initial tests are promising.
The 320gr WLNGC hardcast load made by Grizzly Cartridge Company that I really liked in my Redhawk is accurate, but the recoil was attrocious (injurious). More concerning, I had to hammer the empty cases out with a screwdriver. I can't be shooting over-pressure loads in a titaniam cylinder.
If they ever reach shelves, maybe I should also try Federal's Syntech Solid Core loads.