Firearm Wish List
See also: Accessory Wish List
Sig Pistol + ROMEO-X
Ruger Super Blackhawk Bisley Hunter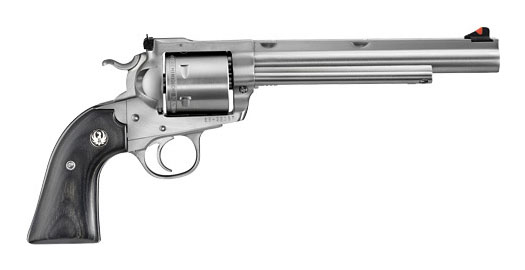 Ruger Super Blackhawk Bisley Hunter (0862) in .44 Magnum
It seems to me that if I were to intentionally hunt big game with a revolver, it would be this one.
The Bisley grip looks cooler and more modern, but does it actually feel better in my hand? I should go someplace that has both the Bisley and the non-Bisley version of this gun and handle them both. Pff. No such place exists.
MSRP is $959
IWI Tavor X95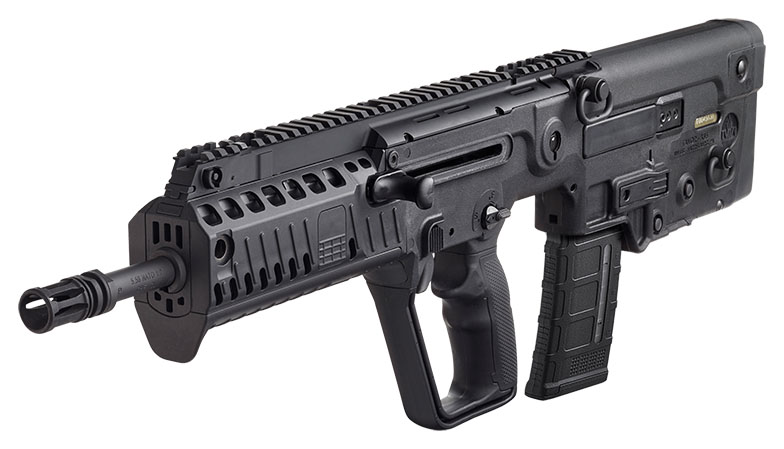 Black, 16.5", 5.56x45mm NATO. The street price is $2000. Get both of the Geissele products.
Buds
Update 3/31/2021: These are actually in stock.
Smith & Wesson 29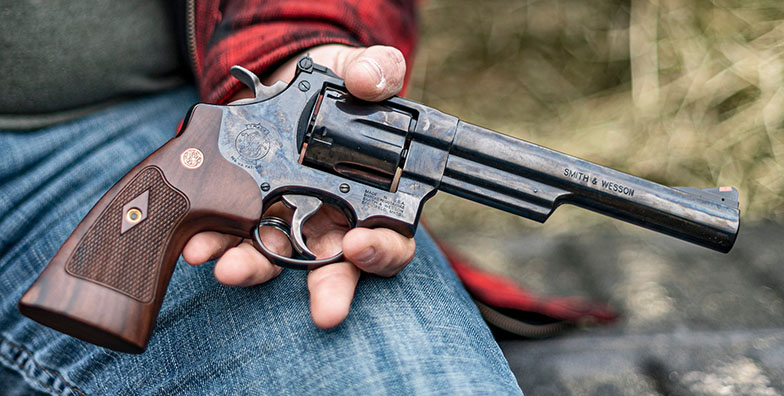 Smith & Wesson 29, .44 Magnum, 6½" Barrel, SKU: 150145
I want one of these too, because they are pretty.
May 6, 2021: There is one on GunBroker with a Buy Now price of $1500. The MSRP is $1200, so that doesn't seem like a reasonable price.
.357 Maximum Barrel
A .357 Maximum barrel for my Encore pistol.
14" barrel from MGM
Handgun scope
Starline brass
dies
Should I get a barrel from MGM? They have .358" barrels, but not .357" barrels, and the general recommendation is to use handgun bullets, which are .357" diameter.
For optics, I could go with the Leupold FX-II 4x28mm again, or perhaps the 2x scope instead. Does anyone else make a good handgun scope?
Something in .325 WSM
It's a cartridge I've always been interested in. Let's call it possibly useful for hunting elk or black bear.
Basically, my choices at this point are something made by Winchester, or a Browning BLR. The Winchester options are Model 70 or XPR, and I don't really expect I'd want an XPR for this.
That leaves the Featherweight, the M70 Extreme Weather Stainless, the Sporter, or the Coyote Light. The Featherweight and the Coyote Light don't seem like good choices for this caliber. I'm leaning toward the Sporter.

Winchester Model 70 Sporter in .325 Winchester Short Magnum
I'd put a Leupold VX-3HD 3.5-10x40mm on it, and it would be good to hunt elk or black bear.
CZ 457
CZ now sells a 457, which real bottom metal. I need to research the line, see if I would like to upgrade, and choose a model. There is really nothing wrong with my 452, but I have never been happy about the stamped metal trigger guard.

CZ 457 American
I will mainly have to choose between the American and the Varmint. The Varmint has a 20.5" barrel with a .866" cylindrical profile, and it weighs 7.08 lbs. The American has a 24.8" barrel and weighs 6.17 lbs.
It looks like I won't have to re-do my trigger customizations, because the 457 trigger is adjustable for weight, creep, and over-travel.
Smith & Wesson 617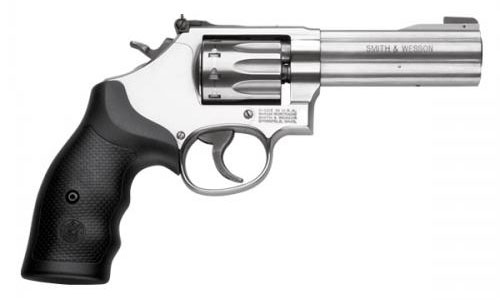 Smith & Wesson 617, .22 LR, 4" Barrel, SKU: 160584
Just because. This gun should be accurate and easy to shoot all day.
Beretta Series 81
Way back when I was shopping for my first handgun, I almost bought a Beretta in .380 ACP. It must have been a model 84 or 85. I am currently looking at the Beretta Series 81 pistols. I think I would like to get one.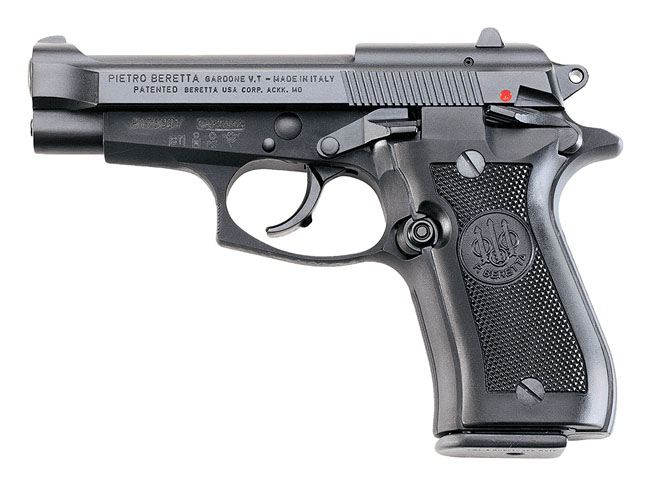 So far, the four options I am looking at are:
Model
Caliber
Capacity
81FS
.32 ACP
12+1 double stack
82FS
9+1 single stack
84FS
.380 ACP
13+1 double stack
85FS
8+1 single stack
Shooting this in .32 ACP ought to be quite pleasant. In .380 ACP, the weight is similar to the Walther PPK, but it might have a more comfortable grip. The 81FS costs more than the 84/85FS, and the 82FS is so rare as to be unavailable.
This would be just to collect and punch holes in paper. I wouldn't intend to carry it. Tim has warned about rim lock with .32 ACP, but that is mainly a problem with the Kel-Tec P32.
None of these are manufactured anymore, but there appears to be new old stock around.
It appears that none of these are being manufactured anymore. In reality,
Evidently, these get imported now and then. They are therefore current production, but they are generally not available with distributors. The 81FS is imported very rarely.
Beretta Forum: 81 Series FAQ
August 14, 2019: My preference would be for the 81FS, just for the sake of being more pleasant to shoot, but they are not easy to come by, and the prices are inflated as a result. I could have an 84FS right now. The 84FS would be more potent for self-defense, and it would be cheaper to feed.
UPC: 082442847177
MFR #: J81F200M
Snow Camo Rifle

I am thinking it would be awesome to own a good set of snow camo, and if I do that, I should have a rifle and a shotgun to go with it.
The best solution is to get a basic black synthetic rifle, mount a scope on it, and then send it out to be dipped. Or perhaps I should perform my own finish.
The rifle should be a bolt-action in a general-purpose caliber, like .308 Winchester.
One option would be the Mossberg Patriot. The black synthentic model in .308 Winchester is #27864. (Mossberg sells a scoped combo with a Vortex scope, but not in that caliber.) It has a 22" barrel and weighs 6.5 lbs. It comes with Weaver bases. UPC 015813278645.
Snow Camo Shotgun

Mossberg Maverick 88 - All-Purpose in 20 gauge(32200)
I want a snow camo shotgun to use on squirrels and possibly rabbits. 20 gauge is probably a good choice, but I could live with 12 gauge.
As with the rifle, I should buy a black synthetic shotgun and then put a snow camo finish on it.
The Mossberg Maverick 88 in 20 gauge would be a decent, inexpensive choice. It comes with a Modified choke, which is what I would use for squirrel. For rabbit, I would want to get an Improved Cylinder choke.
Ruger .44 Magnum Carbine
There have been a couple of variations. I should research the differences and decide which is the best to get. There appear to be plenty of them on GunBroker.
The Deerfield Carbine (Model 99/44) uses a 4-round detachable rotary magazine, but it is ugly as sin. Maybe I shouldn't care how ugly it is.
The Model 44 (sometimes "Deerstalker") uses a 4-round internal tubular magazine.
Henry Big Boy in .327 Magnum
Henry is now chambering their Big Boy lever-action rifles in .327 Federal Magnum. I like the Steel Carbine the best, which has the nicest lever loop, and it probably weighs the least.

Henry Big Boy Steel Carbin in .327 Fed Mag (H012MR327)
Bud's discounted price $703.
Marlin 1895 in .45-70
I sold my .450 Marlin to James, and I think I will replace it with this:

Marlin 1895GBL in .45-70
Maybe I will have better luck with accuracy this time.
I'm actually thinking I would prefer to not have a scope on it. It would certainly solve the occasional bruise on my brow. It would also make it more handy for quick deployment.
$677 at GoG as of 15-Feb-2019.
.50 Alaskan
Who needs a .45-70 or a .450 Marlin for brown bear when you can have a .50 Alaskan? Why bother with a .500 Smith & Wesson Magnum rifle?
Though it is a wildcat, Starline makes brass.
Evidently, the person to talk to is Regan Nonneman, of Nonneman Custom Rifles in Grant City, Missouri.
What if I bought a Marlin 1895SBL to be converted to .50 Alaskan? I would want to get rid of that awful picatiny rail, of course.
Kel-Tec SU-16B or RDB-S
I am thinking about acquiring an inexpensive but reliable semi-auto tactical rifle to keep in my truck, if not all the time, then during periods of civil unrest. It shouldn't cost so much that I'm in a bind if it is stolen. It should be in an intermediate rifle caliber, likely 5.56x45mm NATO.

Kel-Tec SU-16B
The Kel-Tec SU-16 seems like the most reasonable choice — if I can find one. The integrated bipod makes it particularly attractive. The SU-16B would be my top preference, but the SU-16A or SU-16CA would be acceptable options. I can keep it with a loaded one of the supplied 10-rd magazines in the magazine well and a 20 rounds stored in the stock. Then I can have additional 30-rd magazines in the bag. I could, conceivably, keep a scope in the bag with a quick-detach mount, but it will be more compact without it.

Kel-Tec RDB-S
Actually, Kel-Tec is coming out with a possibly better option, the RDB-S. It is intended as a survival rifle. It is a bullpup with a 16" barrel, which should give it performance similar to the SU-16B. The main downside is the shorter sight radius. However, it should stow quite compactly in my truck.
6mm PPC Target Rifle
I have kind of an itch to own a target rifle in one of the little, fat bench rest cartridge. Of the common ones out there, I think I definitely like the 6mm PPC the best.
6mm PPC with a 70 grain MatchKing.
I should think about how much I want to commit to a rifle like this. Am I going to do all the laborious things like turning necks and uniforming flash holes? Would I really attempt to compete?
I should also think about whether it should be fully dedicated to the bench. The 6mm PPC is a respectable varmint cartridge. On the other hand, I already have varmint rifles. If I used it as a varmint rifle, I could shoot 70 grain BlitzKings from it, but it would need a stock and a form-factor that is at least reasonable to carry in the field.
Oh, I could put a Vortex Golden Eagle HD 15-60x52mm scope on it.
Savage 212 Slug Gun
Forget about getting a slug barrel for my Remington 870. I should get a bolt-action rifled shotgun. The Savage 212.
There is also a 220 in 20 gauge. Someone has suggested that 20 guage would be more accurate, and the gun would be lighter. Maybe I should prefer that.
Cabela's sells them with matte blued finishes. They also have camo versions. Bud's discounted prices: $582 black, $606 camo.
Springfield Armory 1911
This was on my list a long time ago, and somehow it was removed. I would like to get a 1911 style handgun, probably one made by Springfield Armory. I like the look of stainless steel with black grips.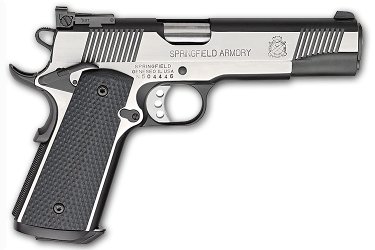 Springfield Armory PX9152LP Loaded Black Stainless Target
The PX9152LP has a 5" barrel, adjustable rear target sight, 3-Dot tritium, match grade trigger, G10 composite grips, stainless steel frame and slide with matt black rounds. It obviously fires .45 ACP. MSRP is $1244.
Kel-Tec SUB-2000
Update: There is evidently a Gen 2 version of this now.
The Kel-Tec SUB-2000 is a cute little novelty: a folding carbine that fires 9mm or 40 S&W pistol cartridges. It folds down to 16" x 7". I keep thinking of situations in which it would be nice to have a stocked rifle that requires very little storage space.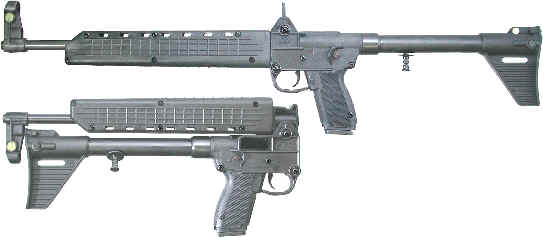 Kel-Tec SUB-2000
Not being one to settle for what's available, I would really like to have one of these in 357 SIG. This caliber would make it a true survival gun, able to take deer-sized game in a pinch. I doubt I can convince Kel-Tec to do a custom job for me, so I will have to buy the 40 S&W version and have it rebarreled in 357 SIG. I wonder if I could buy a replacement 9mm barrel from them and re-chamber it. Hmm, more research is needed, but there are rumors that a few 357 SIG versions are already floating around.
338 Lapua Magnum
For a long time, I have wanted a rifle in 338 Lapua Magnum.
The obvious answer is a Lou Andrews custom rifle. He has been building these lately on a Lawton action. My plan, in this case, would be to get a switch-barrel setup, capable of firing 338 Lapua, 30 Wolf, and 510 Whisper.
A factory option to consider is the Sako TRG-42. As a factory rifle goes, it is expensive, but it is certainly less expensive than the custom rifle I have. It is available with a stainless barrel or a chrom-moly barrel. Street price appears to be around $2800.
Accuracy International: Arctic Warfare Super Magnum. "Due to precise lug-to-receiver-face dimensions, shooters can swap barrels at will using the factory-supplied kit." Does this mean I could have 30 Wolf and 510 Whisper barrels made and swap them easily?
UPDATE: Accuracy International has released a new rifle, the AX338. "The action is longer and wider to accommodate a ten round double stack magazine. The bolt head is larger, and stronger, than the AX Magnum bolt head. The stock is more ergonomic and, in my opinion, nicer looking than the older stock." It's a handsome rifle. I may have to consider it versus a custom build from Lou.
UPDATE: I will have to have my brother build me one of these.
I will definitely have to try some Naturalis Long Range bullets.
Barrett M82A1
One of these days, I'm going to get one of these. It is rather expensive, but my collection won't be complete without one. It fires the 50BMG cartridge, but it claims to have recoil similar to a 12 gauge shotgun. It is semi-automatic with a 10 round magazine. Maybe after the war, they will be easier to get, and I will have the money for it. I will need a taller gun safe if I get one of these. The standard model has a 57 inch overall length, but there is a model that is 60 inches long.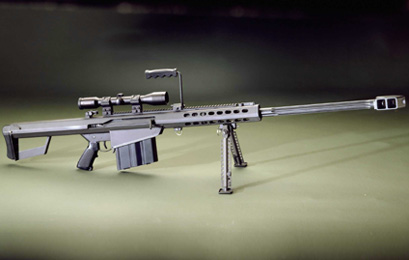 Barrett M82A1
Rifled Slug Barrel
The time will come when I want to hunt in some state where the best option is a shotgun with slugs (also, part of Wildwood falls into this category). In such a case, I will want a rifled slug barrel. The most reasonable option is to get one for my Remington 870. However, I may have trouble finding one that fits a Super Magnum (3½") receiver. On the other hand, it may be that a receiver isn't made to fit 3½" shells, but that only the barrel is. Also, rifled slug barrels appear to be available with cantilever scope mounts. Street price appears to be $300 or $250. Cabela's has the cantilever barrel sold as a package with a pre-mounted scope for $260.
Cowboy Action Firearms
Oh, dear. Now I've done it. I finally got my hands on an open top revolver, a Cimarron 1872 Late Model in .45 Colt. I love it, the long sleek look of it and the feel in my hand. I suddenly find myself wanting to collect cowboy action firearms in .45 Colt, possibly to use them a film props.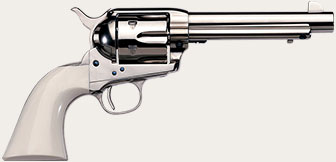 Uberti 1873 Cattleman Cody NM - 5½"
Uberti 1873 Cattleman Desperado NM - 5½"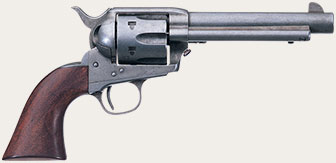 Uberti 1873 Cattleman Old West OM - 5½"
(Maybe)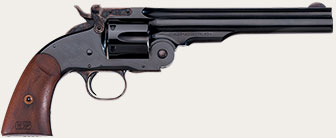 Uberti No. 3 (Schofield) - 2nd Model 7" (348500)
Cimarron (CA850)

Winchester 1892 Carbine
The Winchester 1892 Carbine in .45 Colt has a 10 round magazine capacity. It is top eject, so it wouldn't work well with a scope, but I wouldn't want to put a scope on it. Buds
Update (June 22, 2021): I walked into Buchheits in Herculaneum, and they have a Cattleman Old West with 5.5" barrel for $580. I didn't love the finish.
Winchester 1894 Carbine
Instead of an 1892 in .45 Colt, perhaps I would prefer an 1894 carbine in .30-30 Winchester. It's what Sheriff Longmire carried.

Winchester 1894 Carbine
Marlin 444
I might also get a .444 Marlin, which should be a lot more fun to shoot than either the .450 Marlin or the .45-70, yet should be perfectly capable of taking elk and black bear.

Marlin 444
It will look much more like my .450 Marlin did, and I will go ahead and put a scope on this one.
Marlin 336C in .35 Remington
I think this would be a bad-ass hog hunting rifle. Maybe with a reflex sight and loaded with hardcast bullets.

If I'm going to hunt hogs with it, probably the best sight option is a Burris FastFire or possibly an Aimpoint Microdot. Either way, I should mount it on an XS Scout Mount rail.
I should also look into getting a Wild West Guns large loop lever, or something similar.
Ruger Bearcat
I think it would be fun to have a Ruger Bearcat. Get the blued version without the fancy target sights.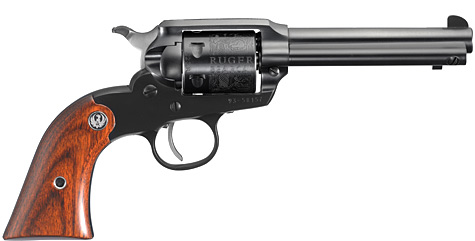 Ruger Bearcat 0912 in .22 LR
Spencer Rifle
They are hard to find, but Chiappa is making reproduction 1860 Spencer rifles. The carbine model in .45 Colt is the one I want. Their SKU is 920.084.

Chiappa 1860 Spencer Carbine in .45 Colt (920.084)
Loaner Rifle for Female Hunters
Weatherby is selling a Vanguard called the Camilla that is designed to better fit a woman. A slightly shorter length of pull, narrower grip and forearm, higher comb, more slanted shoulder pad angle. It is a short-action rifle with a 20" barrel, weighing 6.5 pounds without optics.

If I were to buy one in .243 Winchester, put a 2-7x scope on it (such as the Leupold VX-Freedom 2-7x33mm Hunt-Plex), and sight it in for reduced recoil ammunition, such as Hornady's Custom Lite, I would be able to lend it to a woman interested in big game hunting. The .243 Winchester cartridge definitely has the least amount of recoil for a high powered big game cartridge, and the terminal performance of the Custom Lite ammunition is well reviewed.
Weatherby makes four models of the Camilla. I want the basic model, which has a more basic walnut stock and a satin finish.
Hornady loads their .243 Winchester Custom Lite using an 87 grain SST bullet to a muzzle velocity of 2800 fps.
Buds discount price is (was) $618. GoG for $661.
Remington 7600
Just a pump-action rifle. Might as well just get it in .30-06.
Henry Big Boy All-Weather .44 Magnum

Hmm, I'm not sure how I feel about the straight-grip stock.
AR-10 Hog Platform
This would be an AR-10 with night vision.
What caliber? .308 Winchester, .338 Federal, and .358 Winchester are the obvious choices. It seems like .338 Federal has the performance advantage over the other two. What bullets are available in .338 for hog?
Wilson Combat makes barrels in all three, although I would need to be careful about compatibility.
CZ Bren 2 Ms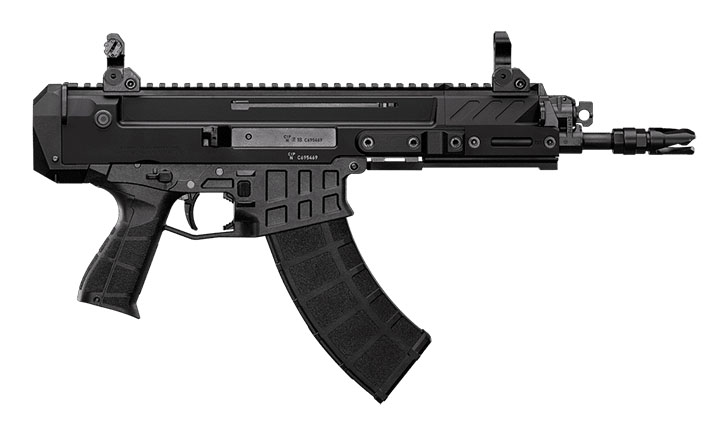 CZ Bren 2 Ms in 7.62x39mm w/9" barrel
This would just be a fun, cool looking gun, though I suppose it has potential for defensive uses. For the sake of variety, I'd get it in 7.62x39mm, and I prefer the shortest 9" barrel.
Kimber Rapide Black Ice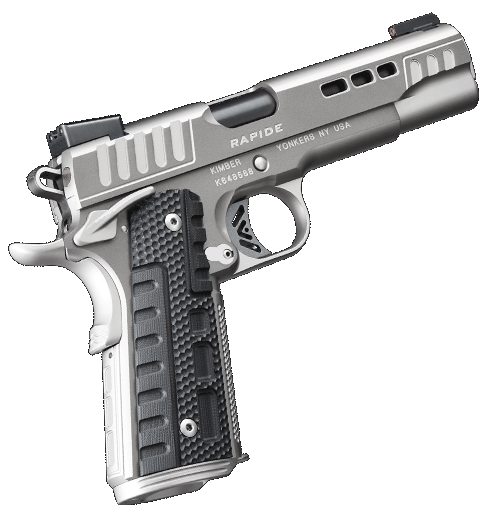 Colt Detective Special
I'm not sure whether to get this with a shrouded ejector rod. To a real extent, the purpose of this gun is movie nostalgia, mainly from film noir and other films from the 40s.
These are out of production, so I'm basically talking about getting a used gun. I guess I need to go to gun shows if I'm going to find a good one. That means I need to know what I'm looking at, the history of different variations, and also market value.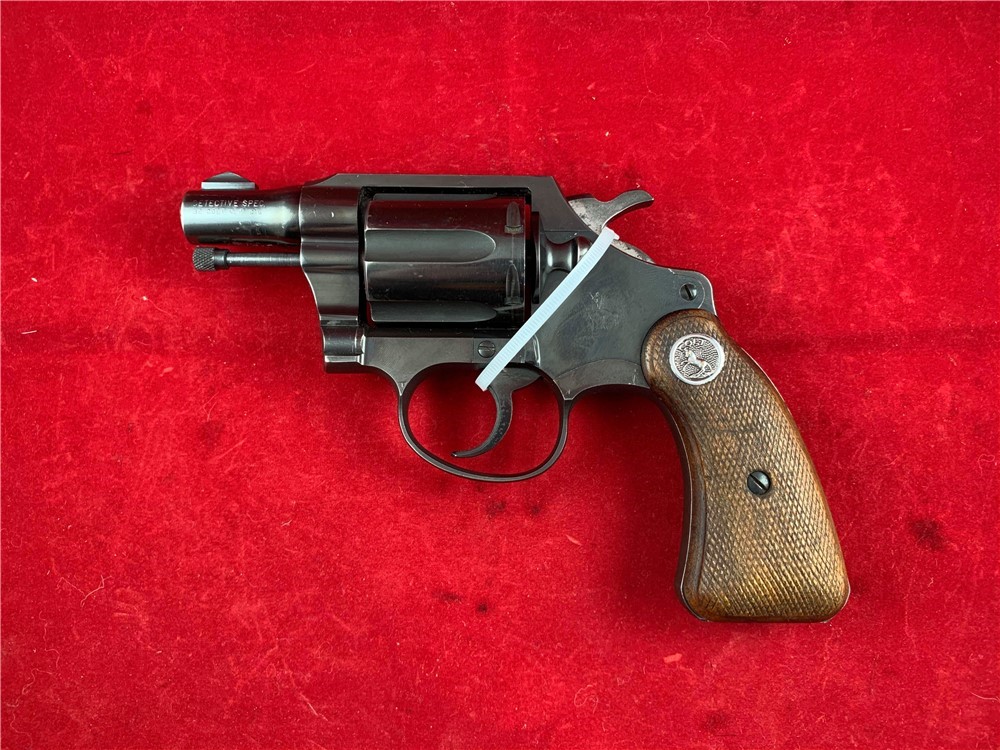 Colt Detective Special, First Series in .32 Colt New Police
*
Wikipedia: Colt Detective Special
First Series: 1927 to 1946

shorter ejector rod with an ungrooved, knurled tip
checkered hammer spur and cylinder latch
half-moon front sight
overlapping screw and locking pin set-up on right side of frame
wooden grip panels (square, then rounded)
narrower frame
reduced clearance between frontstrap and gripframe

Second Series: 1947 to 1972

longer ejector rod with a groove in its knurled tip
smooth cylinder latch, serrated trigger spur
rear of front sight is a serrated ramp
no locking pin on right side frame screw
sometimes plastic grip panels

Third Series: 1973 to 1986

shrouded ejector rod
full ramp front sight
oversize wood grips

"Fourth Series": 1992 to 1995
The most authentic for film noir would be a First Series (1927 to 1946) unit. It would be cool to get it in .32 Colt New Police* (aka .32 S&W Long). .38 Special would be acceptable, but I don't think I want to mess with .38 Colt New Police.
If I get it in .32, I will certainly load it with round nose hardcast bullets. Missouri Bullet Company Cowboy #18 would be perfect, though they have presently stopped production for now.
* There is some lack of clarity about whether First Series is really available in .32 Colt New Police. It may be that this caliber was added for the Second Series, but some guns with First Series features were made during the Second Series date range in this caliber. For purposes of authenticity and collectibility, I'm now thinking it would probably be better to get this in .38 Special. I can always load it down.
Thermal Scoped Hog Gun
If I'm going to hunt hogs in someplace like Texas, I should probably have a rifle with a thermal imaging scope. What would I put it on? A semi-auto, certainly. An AR-10? A Browning BAR DBM?
The BAR DBM has a ten round capacity, and one should be able to swap out magazines quickly if that's not enough. It is all black synthetic, which should be fine. It currently only comes in .308 with an 18" barrel.
Savage Impulse Big Game
This is the new straight-pull rifle made by Savage. Aside from being cool, it is pretty in all of the places that Savage bolt-action rifles are normally ugly.

If I was ever going to get a rifle in a long-action cartridge like .30-06 Springfield, this would be the way to get it. SKU: 57650, MSRP: $1,449.00. However, I might be tempted to get this in 6.5mm Creedmoor.
Perhaps I should consider getting it in 6.5mm Creedmoor. A Savage rifle at that price point ought to be reasonably accurate. SKU: 57647.
KelTec P50
A ridiculous "handgun" to get would be the KelTec P50. It fires 5.7x28mm from a 50-rd magazine.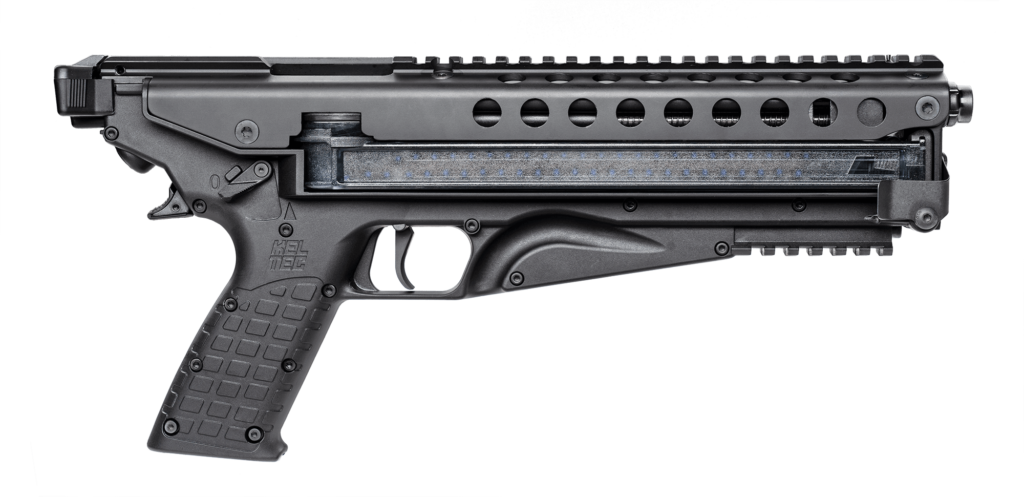 ---